Decorating a home on a budget can mean a lot to different people. For the most part, this entails locating low-cost solutions for your space. But sometimes, it means sprucing up your home and making it more affordable to live in.Here, I have shared some on-budget home renovation ideas; please have a look at them.
Choosing between numerous different options, Furniture Ideas, or colors – and at the cheapest offer – can be stressful and overwhelming. However, whatever it means to you, the ultimate goal should be to make your living place as economical as possible for the people who live there. you will know who we are talking about if you're a student and want to renovate your residence.
Paint Walls and Doors:
People have always preferred to change their walls by painting them. The most basic hues and patterns usually give off the most luxurious vibes! To make your room design seem more spacious and open, use lighter colors like grey, yellow, or white.
Painting your entryways in a lighter color is a good idea! Consider having dark grey doors leading to other rooms in your home interior design. Visualize them freshly painted, vibrant white, and with gleaming doorknobs! In your living space, doors play an essential role; give them the attention they deserve!
DIY Artwork:
Wall art paintings can be quite expensive but good to have home renovation idea. A clear canvas and some watercolors are less expensive – and, of course, your imagination! You can start creating landscapes portraits and even renew famous works if you're artistically gifted.
But don't worry if you have difficulty keeping a paintbrush. Visual art is no longer popular, nor has it been easier to paint. Vibrant shades, shapes, and ideas all go together if it's an art piece! Put some abstract art on the canvas and hang it somewhere with a lot of wall space. It'll undoubtedly get some well-deserved attention!
Celling: 
Some people believe that painting the ceiling closes off the living room design. This is true if you use a dark, absorbent color like black or brown to paint it. These are only appropriate in exceptional circumstances, as they can make your space appear claustrophobic. To end off your ceiling, employ light paints to give the impression that the room design seems to be much larger than it is. 
Old Floorings: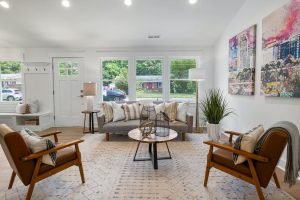 Your home decor can be razed to the ground and aged by decades if you have old flooring idea. Cracked old boards should be removed, but a coat of floor paint will suffice if they are in good shape! Select a color that complements your walls and is just a shade sadder than the rest of the area.
Bistro Kitchen Table:
Let's encounter it: dining tables are frequently overpriced. However, there is a quick fix: bistro kitchen tables! You can get them in good condition and varnish them yourself! They're small, so they'll fit over almost any kitchen design, and they're inexpensive to buy.
Labels:
When we talk about kitchen jars, buying a few large containers and storing them in the kitchen ideas has been done for nearly as long as anyone can remember. This is the next step: make cute labels for each of your jars! To create beautiful and captivating Design Inspiration, you can use a label maker. They do make a significant difference, believe it or not.
Mirrors: 
Mirror can be your one of the best Home Renovation Idea. In the world of home decor, mirrors are an incredible feat. They assist in enlarging your space, and smartly placing them has been shown to produce significant results. Frame the mirrors for a more formal and elegant look if you want a modern interior design treat. 
Conclusion
Whether you are looking for Home Renovation Idea or inspiration or different styles and themes to improve your home look n feel, this information will give new insight to you.
READ NEXT: How To Decor The blank Walls Of Your Living Room
RELATED TOPICS: Home decor ideas