In recent years, luxury living room designs have become increasingly popular with homeowners looking to create a stylish and trendy living space in a contemporary home . With the right design elements and a few creative accents, you can transform your living room into a luxury oasis that's as functional as it is beautiful. In this article, we will explore some luxury living room design ideas and inspiration to create a stylish and modern living space in your home.
Choose neutral shades
Neutral shades are a classic choice for luxury living room design. Beige, gray and white tones create a timeless and sophisticated look that complements any decorating style.You can add character and character to a room by adding color with accessories like throw pillows, artwork, and rugs.
Add Texture with Different Materials
One way to make your living room look luxurious is to incorporate different textures and materials into your designs. For example, you can add soft rugs, plush velvet or leather furniture, and metallic accents to create a multi-dimensional and visually interesting space. Mixing and matching different materials can add depth and character to your living room design.
Make a splash with light
Light plays an important role in creating a luxurious living room.Consider using a chandelier or pendant light to catch the eye and add a touch of glamor to the space. You can also create a warm and welcoming atmosphere with floor lamps and table lamps.
Embrace minimalism
A minimalist approach to living room design can be a chic and stylish way to create a luxurious space. Use simple, clean furniture and keep the space clean for a clean, modern look. This approach makes every room stand out and adds to the luxurious feel of the room.
Incorporate Artwork and Decorative Objects
Artwork and decorative objects can add personality and character to your living room design. Consider adding large works of art to create a centerpiece in the room, or add visual interest and depth to the space with decorative items like vases, sculptures, and coffee table books.
Use mirrors to create a sense of space
Mirrors are a great way to make a room look bigger and more spacious. Hang a large mirror on a living room wall to create a sense of depth and dimension. Mirrors also reflect light, adding to the overall brightness of the room.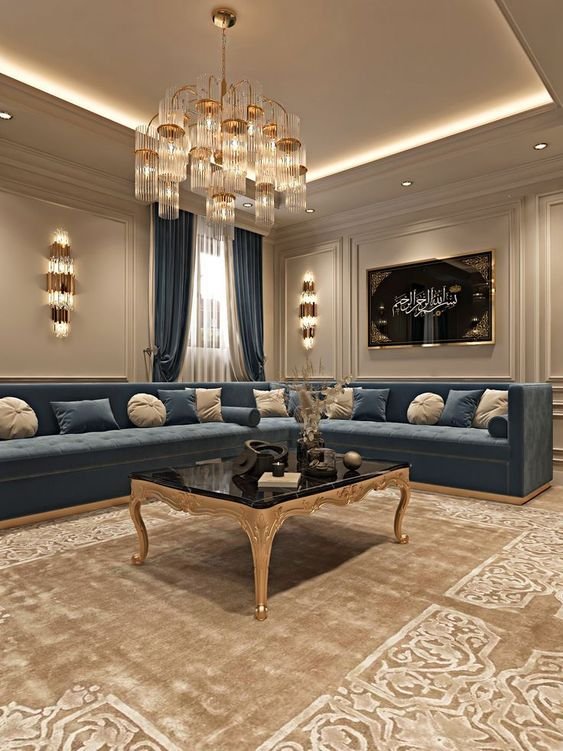 Create a comfortable living space
A luxurious living room should also be comfortable and inviting. Create a cozy seating area by placing plush sofas and armchairs, and add a touch of warmth and texture with throw pillows and blankets. Consider adding a fireplace or built-in shelving for a warm, inviting atmosphere.
Mix and Match Patterns and Textures
Mixing and matching patterns and textures is a great way to add visual interest and personality to your living room design. Consider patterned throw pillows, textured rugs, and patterned curtains to create a space with depth and visual interest counts.
Think about how you will use the room and what activities you will do there. For example, if you enjoy entertaining guests, you might want to include a bar or lounge area for chatting. If you enjoy watching movies or TV shows, consider creating a media center with a big screen TV and comfortable seating.
Don't forget the curtains
Curtains are an important aspect of designing a luxury living room. Consider drapes or curtains made of quality materials like silk or velvet to add a touch of elegance and sophistication to a room.You can also use curtains or blinds to control the amount of natural light entering the room.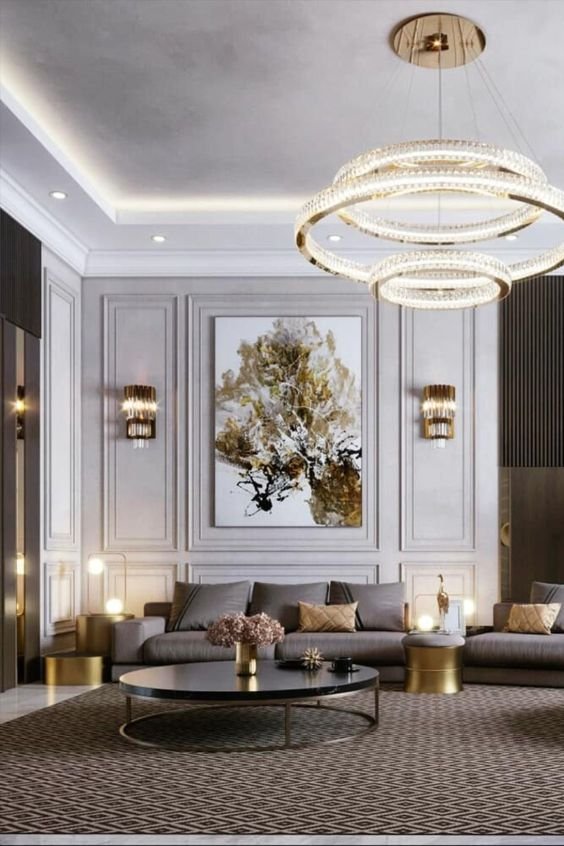 Use natural elements to add warmth and texture
Using natural elements such as wood, stone and plants can add warmth and texture to your luxurious living room design. Incorporate natural materials into your design by using a wooden coffee table, a stone fireplace, or adding indoor plants to the space. These elements will create a calm and soothing atmosphere, perfect for relaxing.
Create a focal point
The focal point is a great way to add drama and visual interest to your living room design.
Consider creating a feature wall with wallpaper or paint, or use bold artwork as a focal point. You can also use a large area rug to anchor the seating area and create a visual focal point.
CHOOSE THE RIGHT ACCESSORIES
Accessories such as cushions, lamps and vases can complete the luxurious decor of your living room. Choose accessories that complement your color palette and add visual interest and texture to the space. Consider adding a touch of glitz and sophistication with metals like gold or silver.
Attention to proportions and proportions
Attention to proportions and proportions is important when choosing furniture and decorating your living room. Large pieces of furniture can overwhelm a small space, while small pieces of furniture can seem lost in a large room. Choose furniture that matches your space and use accessories like rugs and artwork to create balance and proportion.
Ultimately, designing a luxury living room is all about creating a space that is both beautiful and functional. By considering layout and function, using natural elements, creating focal points, and paying attention to scale and proportion, you can create a living room that's both stylish and comfortable.
Don't be afraid to mix and match different design elements to incorporate your personal style to create a unique and stylish living space that reflects your personality and lifestyle.