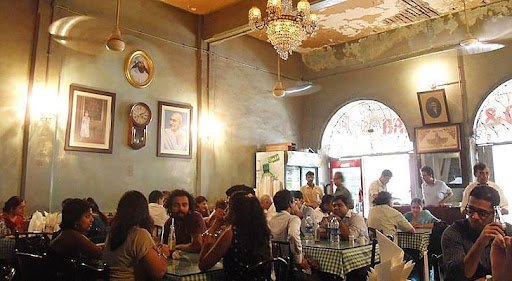 The past will never be outdated as it is the root of our existence. This applies to Indian restaurants that have been around before the independence days. While restaurants are trying out the worldly cuisines across the nation, these reliable eateries include a scent of nostalgia that often enchant their diners. Although many of these restaurants have advanced with time, they make a perfect destination for every visitor who wishes to taste the Indian history and local culture. To make your travel easy following is the list popular restaurants in India.
Tunday Kababi, Lucknow
Tunday Kababi is said to have been established in 1905. The eatery was established by Haji Murad Ali. Located in the narrow gullies in the ancient area in Lucknow, the restaurant uses traditional recipes to make its mouth-watering gourmets. 
Indian Coffee House, Kolkata 
Indian coffee house is located in the bustling college street of Kolkata that carries ancient nostalgia. The eatery has been a favorite destination for eminent people and college-goers. The restaurant has two floors, and travelers can enjoy various delicious dishes.
Britannia Co, Mumbai 
This is one of the most loved restaurants in Mumbai. It first served British officers in 1923. Britannia Co, Mumbai is a cult eatery where Mumbaikars head to when there is a need for some serious traditional Parsi. The place still has its old-age glamour heritage furniture. Britannia Co, Mumbai is a personal touch of Boman Kohinoor, who personally takes orders. The popular dishes are Mutton and Chicken Berry Pulav. 
Mavalli Tiffin Room, Bengaluru 
Established in 1924 by Parampalli Yajnarayana Maiya and his brothers, Mavalli is a culinary turning point in Bengaluru. Earlier, MTR was known for serving coffee and idliss. But now it is an evolved restaurant with a wide range of food options. It is a perfect eatery for uniting your loved ones or catching a quick bite. MTR is a reputable eatery with high standards, making it one of the top leading eateries in India. 
Delhi Misthan Bhandaar, Shillong 
Delhi Misthhan Bhandaar is located in downtown Shillong's Bustling Police Bazar. It has been enchanting visitors with delicious sweets, savories, and much more since 1930. The eatery serves the best Jalebis and Gulab Jamuns you can get in town. Delhi Misthan appeared in the Guinness book of world record for preparing the largest Jelabi ever. The world's largest jalebi had a diameter of 75 inches and 15 kgs in weight. 
Leopold's café Mumbai 
Leopold's café was launched in 1871, and it's one of the most iconic cafes in Mumbai. It is a must-visit destination for anyone who tours the maximum city. Located in the Colaba Causeway, the café always bustle with life with a dedicated crowd. Established in 1871 by Iranians, Leo's is one of the oldest restaurants in Mumbai.   
Glenary's, Darjeeling 
Glenary's was launched by Vado, an Italian businessman who later became the manager. The restaurant is over 100 years old, and it charms both locals and tourists. It is well known for its backing and hearty breakfasts. At night visitors can enjoy endless live music performances, giving you an unforgettable experience. 
Karim's, Delhi 
Launched in 1913 by Hazi Kareemudin, the restaurant has won several awards and accolades for its mouth-watering non-vegetarian fair. The restaurant has become locals' favorite, and for sure, it's unique than other similar eateries. 
Hari Ram and sons, Allahabad 
Located in Allahabad, Hari ram and sons is recognized for serving travelers with the best snacks. The restaurant has been making people's favorite dishes for over 100 years. The small eatery is frequented by a crowd throughout the day, and the staff is committed to serving you with some excellent chai and snacks. 
Flury's, Kolkata 
Anyone who visits Park Street can never go without looking at Flury's window. The restaurant was launched in 1927, and it has been serving English dishes and excellent pastries since then. 
The bottom line 
You at least have a place to go during the holidays. Visiting these popular restaurants is the perfect way to begin or end your year as you connect with your loved ones. 
READ NEXT:10 brands and their free coffee offers on National Coffee Day
RELATED TOPICS: Best food